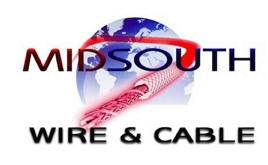 LT130 Gas Lamp Voltage Tester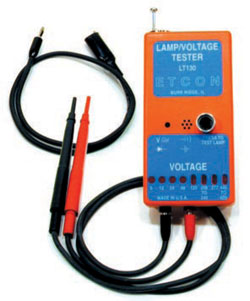 WEB PRICE EACH: $289.99
It performs a complete lighting fixture test which
includes lighting the lamp with no power connection.
The LT130 tests the following lamps:
Fluorescent bulb.
Metal halide bulbs.
Mercury vapor bulbs.
High and low pressure sodium bulbs.
Neon bulbs.
Features:
Audible voltage indication
5/12/24/48/120/208 to 240/277/440/to 600VAC/DC.
Audible continuity to 100k ohms.
Test ballast capacitors, diodes, igniters and photoelectric controls.
Telescoping antenna that fully retracts into the housing.
Prod holder for two-handed operation.
Replaceable antenna.
Separate battery compartment.
Neoprene voltage lead and alligator clip assemblies.
Unit includes:
Leather carrying case, lead assemblies and
owners manual.
Made in U.S.A.
————————————————————————————————————————–
midsouthcable.com     midsouthelectronics.com      midsouthglobal.net
webnetcable.com            webelectrical.net                ruggednetworks.net
Prices are subject to change without notice. Inventory is subject to prior sale. Product design, specifications & construction are subject to change without notice. Pictures are for general representational purposes and may not represent actual product.
Not Responsible for errors in print, verify all data with us or manufacturer. Terms & Conditions of sale apply, for a copy contact us.
Products may be discontinued without notice. All Data is Subject to Change Without Notice.
| | | |
| --- | --- | --- |
| Solar Panel With Charge Controller This portable, rugged constructed, panel keeps your 12 volt batteries charged with no operational expenses. The built in charge controller and led light indicator tell you the status of the battery state of charge. Don't be with out power for camping or any of your battery equipment. | Solar Sign Lighting Kits Whether installing new or existing sign lights, we have a perfect solar light kit for your needs. These kits are ideal for situations where it is not practical or cost effective to run traditional wire. Or the cost to dig from the power source to the sign is to costly. | Solar Power and Lighting Kits Solar lighting and power kits can transform a shed, pavilion, shelter or out building into a well-lit usable space with DC and AC power without the expensive costs associated with trenching, wiring or electrical connections. |
| Solar Street Lights Lighting facilities, people and assets is increasingly important. Fences, walls and borders are often a long distance from established electrical systems. Wireless lighting is the most cost effective way to illuminate perimeters. Cost prohibitive electrical trenching and complicated logistics makes solar powered LED security lighting the intelligent first choice | POS Portable off Grid Solar Power Kits Off Grid Kits allow you to have a turn-key solution for quick and easy installation. These kits provide all the pieces necessary for a complete off grid solar power system. Custom portable off-grid systems are also available to fit your specific energy needs. Are you in the a remote area that needs power take it with you and leave gas at home | Large Off Grid Solar Kits with Batteries  We have made going off grid, with a solar energy system, easier than ever. We have pre-engineered off grid solar systems to provide you with as much power as you need for any application. Large custom off grid kits are also available to fid your needs. |
| Cell Phone & Electronic Device Chargers Charging your cell phone, rechargeable batteries, MP3 player, laptop computer, and other electronics is always a challenge during outdoor adventures. Our line of quality portable solar panels provides a lightweight, compact recharging tool that's easy to take on your trips. Never be without power for your electronic devices again!!!!!! | | Visit us at our other webs:    midsouthcable.com     midsouthelectronics.com      midsouthglobal.net webnetcable.com            webelectrical.net                ruggednetworks.net       inetparts.com        midsouthlighting.com  |